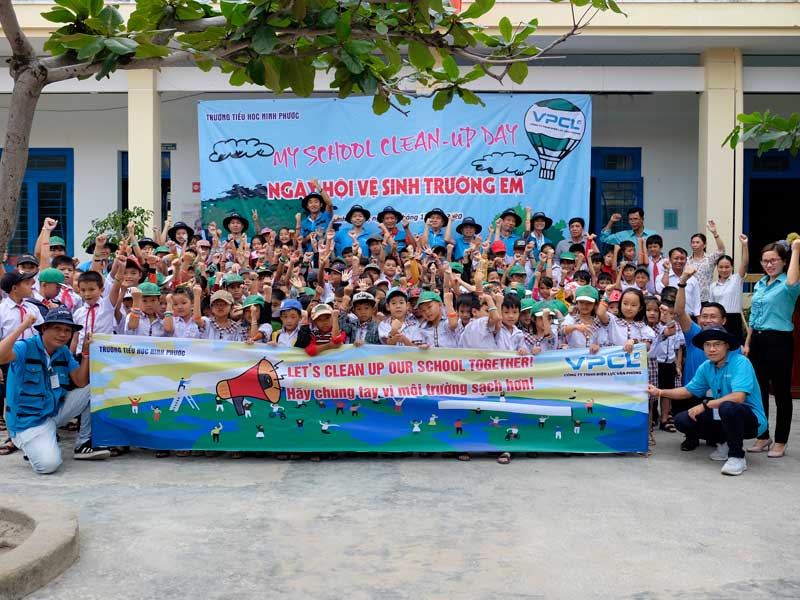 VPCL's Social responsibility amid Covid-19 pandemic
As a member of the local community, the owner of Van Phong 1 BOT Thermal Power Plant project has been actively contributing to local well-being and society through its integrated programs implementing in Ninh Phuoc and Ninh Tho communes, Ninh Hoa town.
Community Health & Safety amid Covid-19 pandemic
Safety and health are the highest priority for VPCL, not only for personnel at the Project site (more than 3,000 employees as of December 2021), but also for the community. In the context of the Covid-19 epidemic in 2021, VPCL and its contractors of Van Phong 1 Thermal Power Plant Project jointly contributed VND 600 million to the Covid-19 Vaccine Fund through the People's Committee of Khanh Hoa province. In addition, VPCL also handed a package of medical equipment caring for Covid-19 patients over to Khanh Hoa Provincial Hospital for Tropical Diseases worth VND 946 million, that includes oxygen generators, ventilators, patient monitors, N95 medical masks, and face shields.
In particular, VPCL has joined hands with local authorities' rapid responses to the pandemic prevention and control by providing supporting packages to Ninh Hoa town PC; Ham Nghi Secondary school, Health clinic and PC of Ninh Phuoc Commune; and Ninh Tho Commune PC. The supporting packages are equivalent to VND 367 million.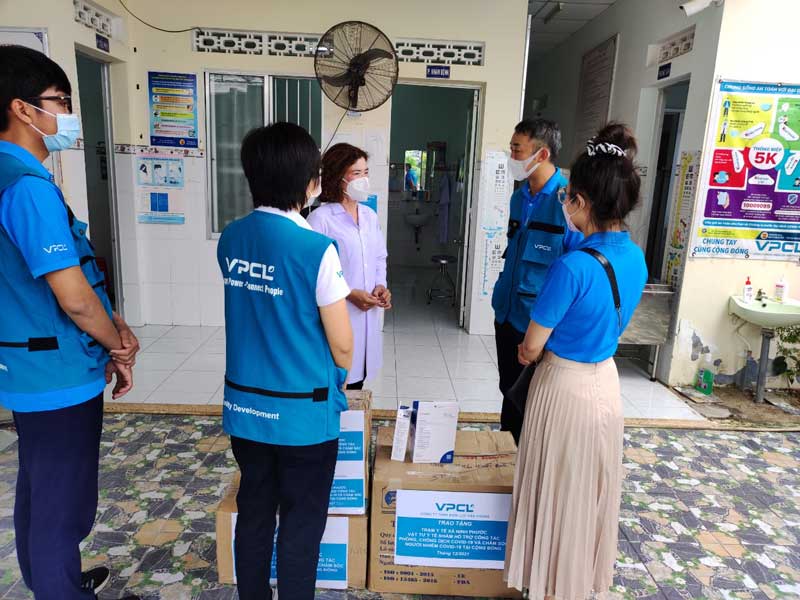 Education support
In 2021, more than 1,400 students and children with disabilities were supported through Education support programs in Ninh Phuoc Commune.
>Specifically, 112 scholarships with a total value of VND 142.5 million have been awarded to students with difficult circumstances and excellent academic results by VPCL's Van Phong Children Light Up Fund. Of which, 70 students were from Ninh Phuoc commune and 42 others were from other communes of Ninh Hoa town.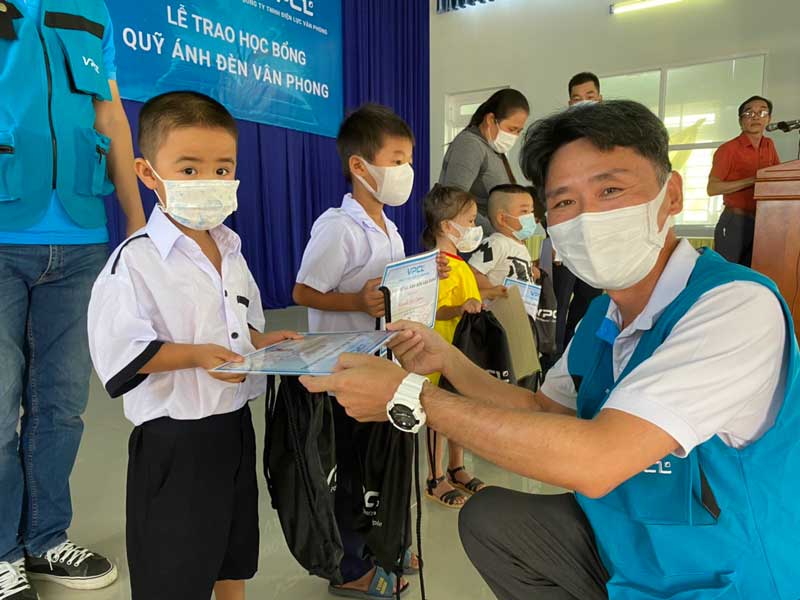 There have been more than 1,400 children in Ninh Phuoc commune included in gift-giving programs and enjoyed activities organized by VPCL on the occasions of the Children's day and the Mid-Autumn Festival. In addition, teaching and learning conditions at schools have also been improved with the support of facilities from VPCL. The company renovated classrooms, supported tables and chairs, books for Ninh Phuoc Primary school and Ham Nghi Secondary school; provided books and children's playground for Ninh Phuoc Kindergarten. The total value of the supporting facilities and extra-curriculum activities is 711 million VND.
Livelihood restoration & local recruitment
The construction project of Van Phong Thermal Power Plant has been creating favorable conditions for local economic growth through job creation and relevant service development for local people. Currently, there are 947 employees in Ninh Hoa town working at the Van Phong Thermal Power Plant project, of which 314 are residents in Ninh Phuoc commune (at the time of December 2021). VPCL's approach in its Livelihood Restoration Program is to enhance households' sustainable livelihoods through strengthening their human, financial, and physical resources. Specifically, the Program has been giving priorities to the group of displaced HHs in Ninh Phuoc in benefiting from agricultural activities, small business development support, and vocational training and employment.
VPCL has coordinated with authorities and related agencies to assess and develop agricultural programs for groups of households. These programs will be implemented once the Covid epidemic is controlled in the commune.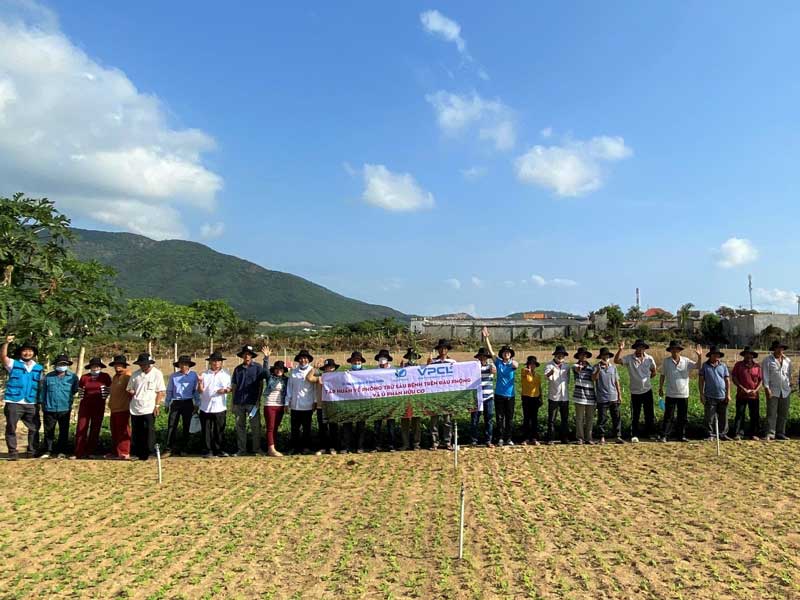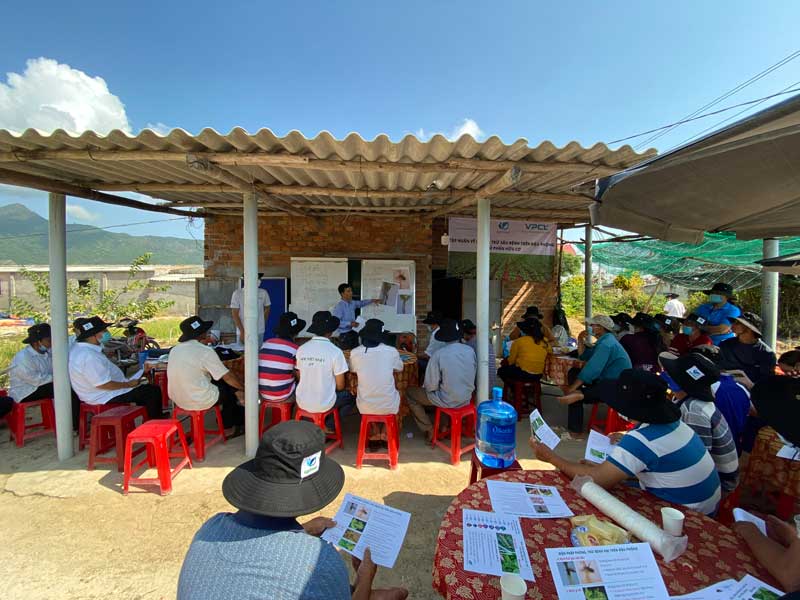 Community Support
Most local people's lives have been facing difficulties in the context of the Covid-19 epidemic, especially vulnerable groups. Figures of poor and extremely difficult households in Ninh Phuoc have increased significantly as a result of the loss of livelihood sources and income during the Covid-19 lockdown. In July 2021, VPCL promptly coordinated with the People's Committee, Fatherland Front and mass organizations of Ninh Phuoc commune to provide essential necessities to 328 disadvantaged households in Ninh Phuoc commune and Ninh Thuy resettlement site in Ninh Tho commune with a total value of VND 98 million.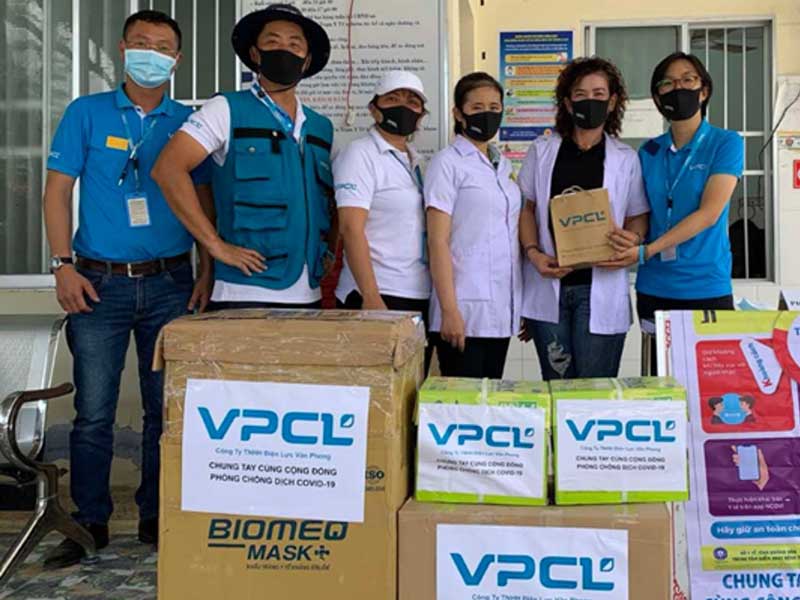 Simultaneously, VPCL supported Ninh Phuoc commune Health clinic to implement the Newborn babies and pregnant women care Program which was taken place periodically on the monthly vaccination days. Through the Program, 69 mothers and 68 infants were supported with milk and baby care supplies with a total value of 150 million VND.
On the Tet Sharing Program 2022, that was supported by VPCL and under its collaboration with Van Phong EZMB, Ninh Phuoc Border Guard, and businesses in the area, there were 505 gift packs given to individuals and households in need in Ninh Phuoc, Ninh Tho and Ninh Van communes.
Aside from priorities given to children and vulnerable groups in the community, VPCL's CSR Programs also allocated resource for repairs and upgrades of three community houses in Ninh Phuoc commune and Phat Buu's orphanage in Ninh Tho commune. Total cost for these infrastructure improvements is VND 195 million.
With the efforst in place, VPCL hopes to make a change and contribute to better lives of local people, and overcome the challenging situation caused by the pandemic together.
The Corporate Social Responsibility (CSR) Programs demonstrate VPCL's commitments to meeting international environmental and social performance standards as well as contributing to local sustainable well-being. CSR programs have been implementing since 2020 that are designed and implemented focusing on the following areas: Education, Community Health & Safety, Livelihood restoration & Local recruitment, and Community support. The close coordination with local authorities and agencies has played a great role in bringing about the effectiveness of the programs over the past two years. As a key project and driving factor for socio-economic development in Khanh Hoa, the owner VPCL has been committing to implement its long-term corporate social responsibility (CSR) programs toward ensuring the sustainable well-being of residential communities around the Project.