Beyond generation
A year starts with the Spring, a life starts with one's youth. The youth are the spring of the society. – President Ho Chi Minh
When life is hard and discouraging, parents look into their children to find joy and courage.
When solidarity seems like fading in communities, adults look at the young ones and learn from their innocent and unconditional love for one another.
When the labor force is aging and the economy is slow, only logically, discussions turn to how the next generation might bring positive changes.
Either subconsciously or consciously, intentionally or unintentionally, society as a whole puts a lot of pressure and places much expectation on the shoulders of the little ones. And the story is not different in the ever changing and developing Vietnam where taking care of the younger generation is no longer an endeavor of any one particular entity but of the whole society.
As an enterprise based in Ninh Phuoc Commune, understanding the characteristics of the community and especially the children at this area of the South Central Coast of Vietnam, at Van Phong Power Limited, we always remind ourselves of our own commitment in supporting the community in caring for the future influencers of their communities and ultimately Vietnam.
2020 marked an incredible year full of fun and educational programs for children that VPCL facilitated in close cooperation with the local schools of Ninh Phuoc commune.
The year started off with the Peaceful Tết program part of which was for the children to learn how to make the traditional cake for the celebration of the Lunar New Year called "Bánh Tét", from this particular area of the South Central Coast. On 13 January 2020, at Ninh Phuoc Elementary School, VPCL's members on site joined hands with 100 students and 20 teachers from 20 classes of the school (three branches of three villages) in making Bánh Tét. VPCL's members were divided into groups with the teachers and students of each class.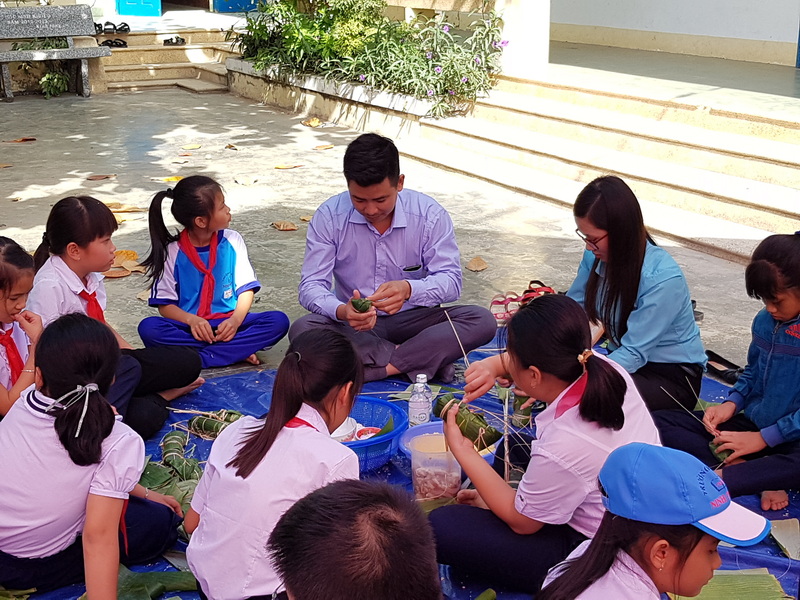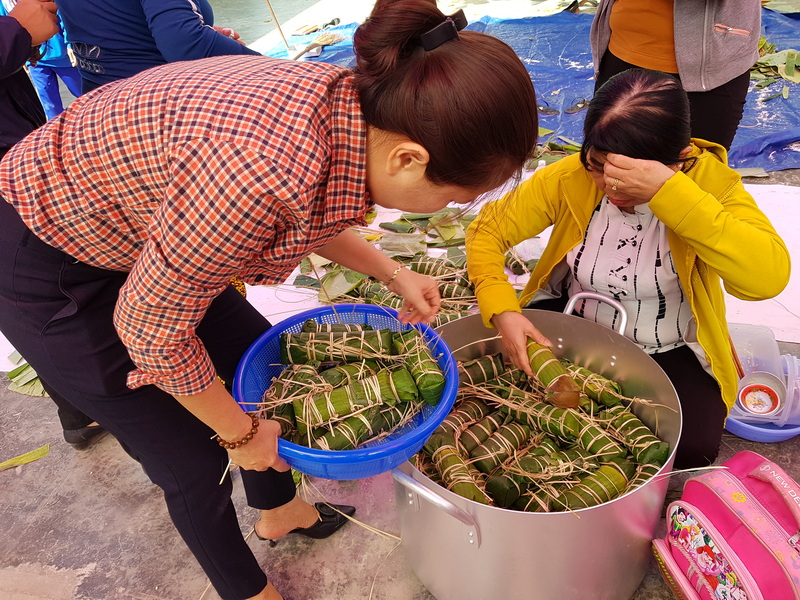 To be frank, since it was the first time for many of us, everyone was struggling until grandmothers and several aunties from Ninh Tinh village came for the rescue and showed us how to properly wrap the cakes. In the end, they indeed saved the day. As soon as the cakes were wrapped, they were cooked on the school ground with help from the teachers. The cakes were ready in the afternoon for redistribution to the students and teachers. Taking this opportunity, VPCL also donated 2,344 notebooks to 586 elementary students of the commune. This particular program was warmheartedly made possible with the donation from all of VPCL's members from both Hanoi and site offices.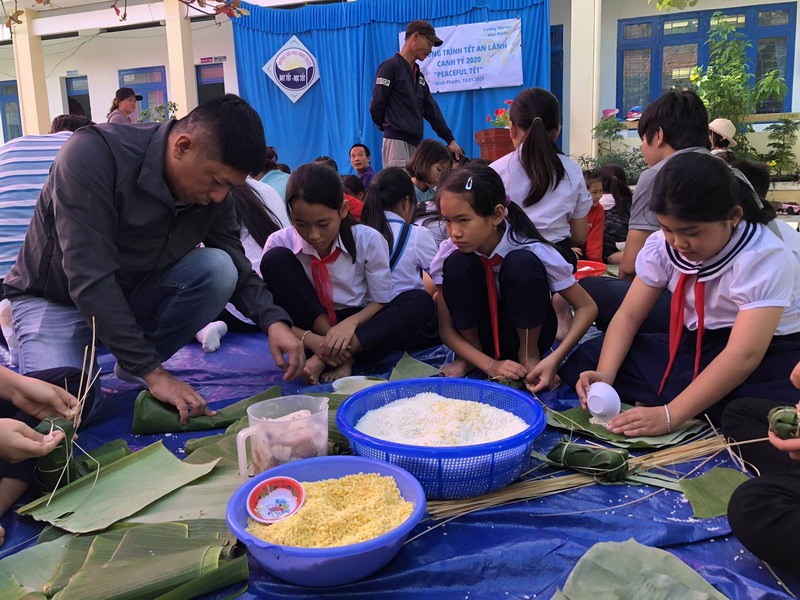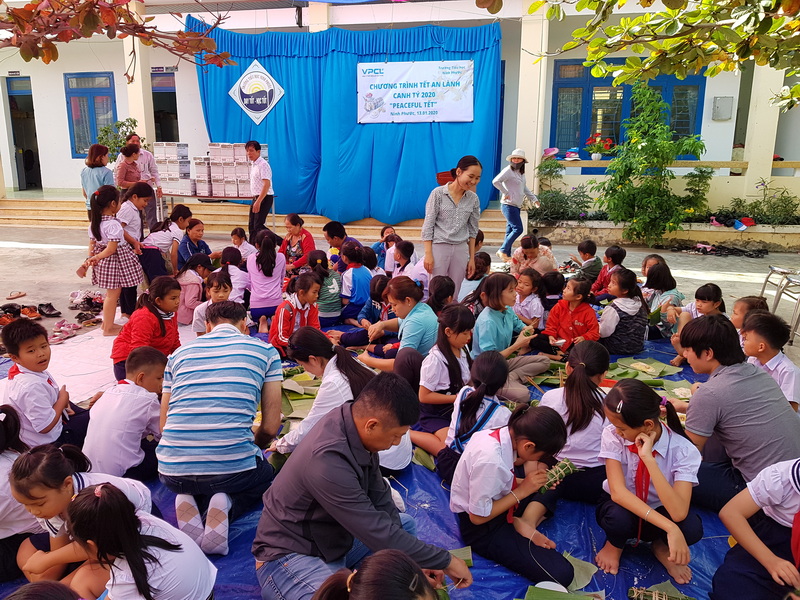 International Children's Day event was a big celebration as 262 elementary students attending the school branch in My Giang village participated in quizzes and games and learned about children's rights. Posters containing information about children's rights and child domestic injuries were hung up around the school a few days before the event and remained after that for the students to read and learn during their recesses. More than 600 gifts had been prepared for all of the elementary students of the commune for this occasion.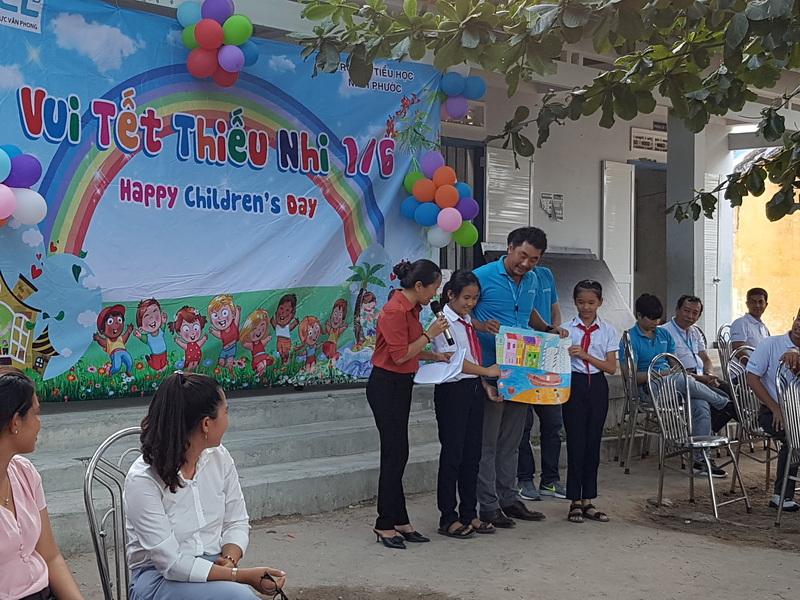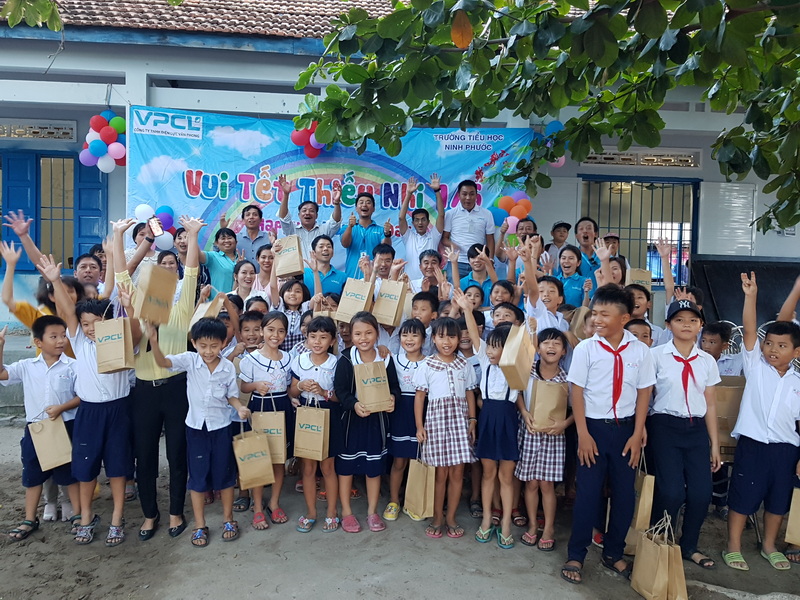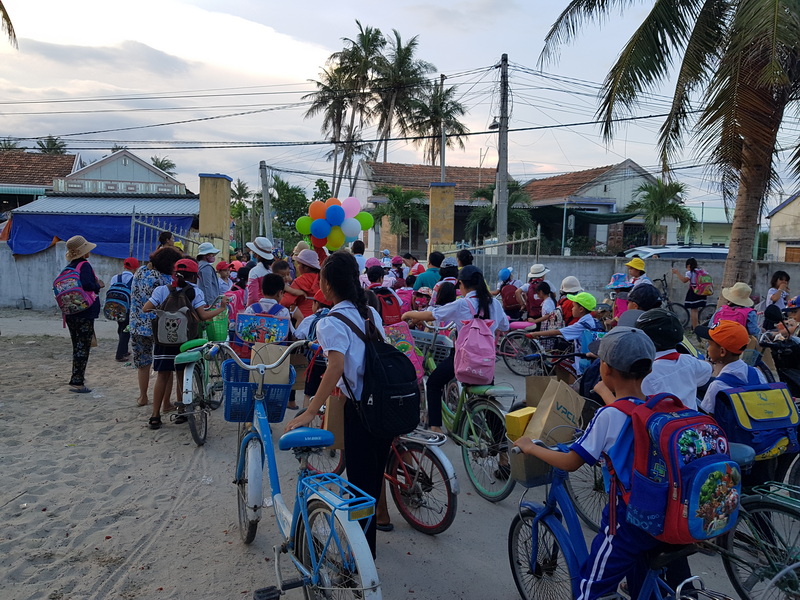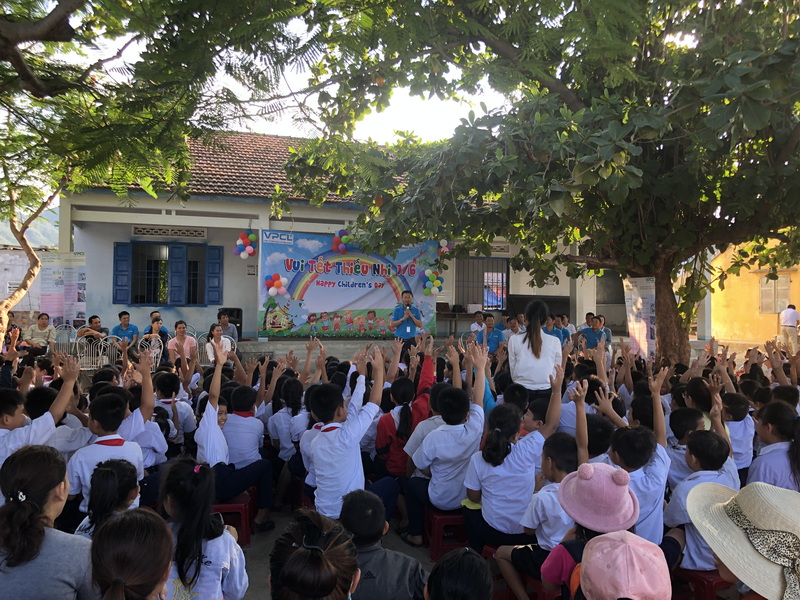 Then came summer when VPCL ramped up infrastructure support programs to take advantages of the summer break and favorable weather for construction projects.
Since most VPCL's members are sport fanatics, it is a mutual understanding among us that having a proper place to play sport is the promotion of a healthier lifestyle among the youth. This undoubtedly helps them fight the odds that would often stack against younger folks in a typical remote area in transition like that of Ninh Phuoc commune (temptation from drugs and alcohol addiction, criminality and other social ills). With this spirit, after discussions with relevant stakeholders, VPCL decided to support Ninh Phuoc People's Committee and its sport center in constructing a mini football court and to involve other EPC contractors being Doosan and CTCI in this program.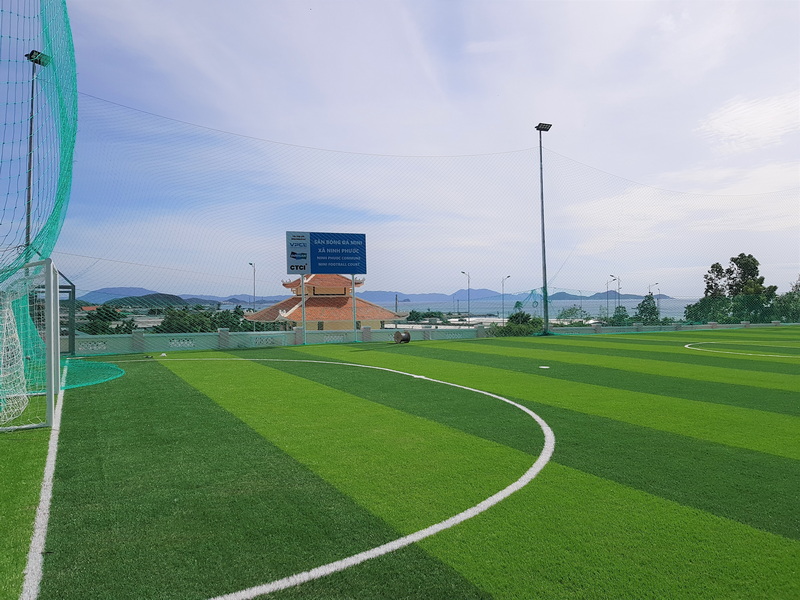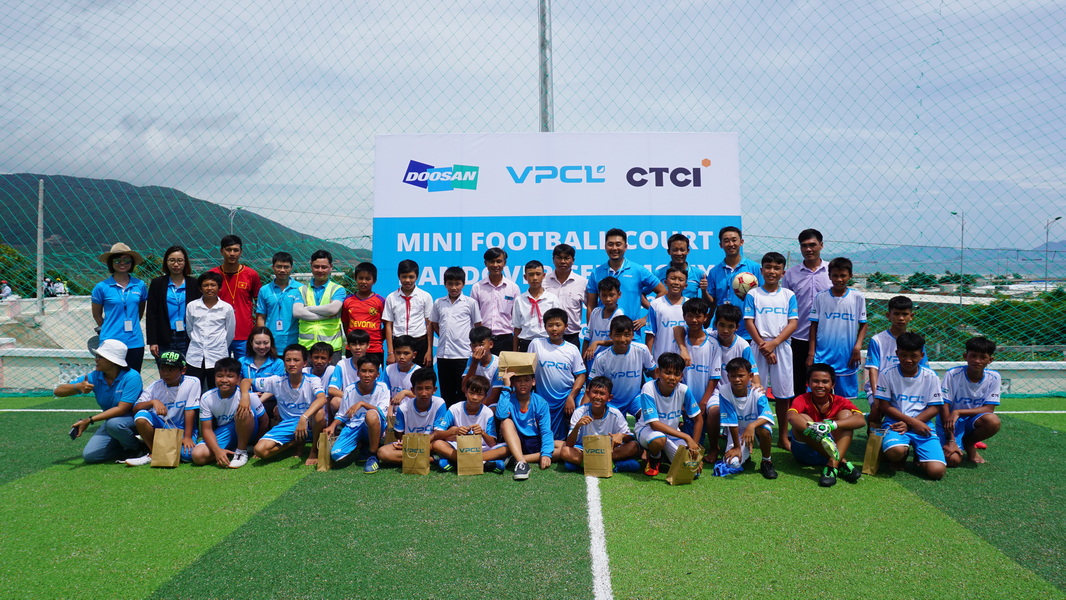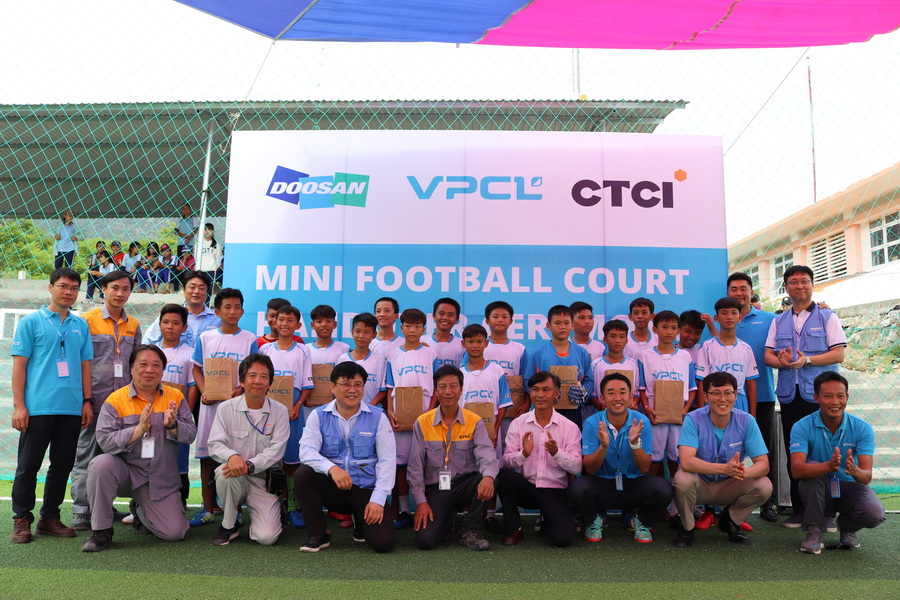 The kids, some of whom already play football like a pro, enjoy their games with friends to their heart's content every single day on that court. Watching them play is a joy in itself.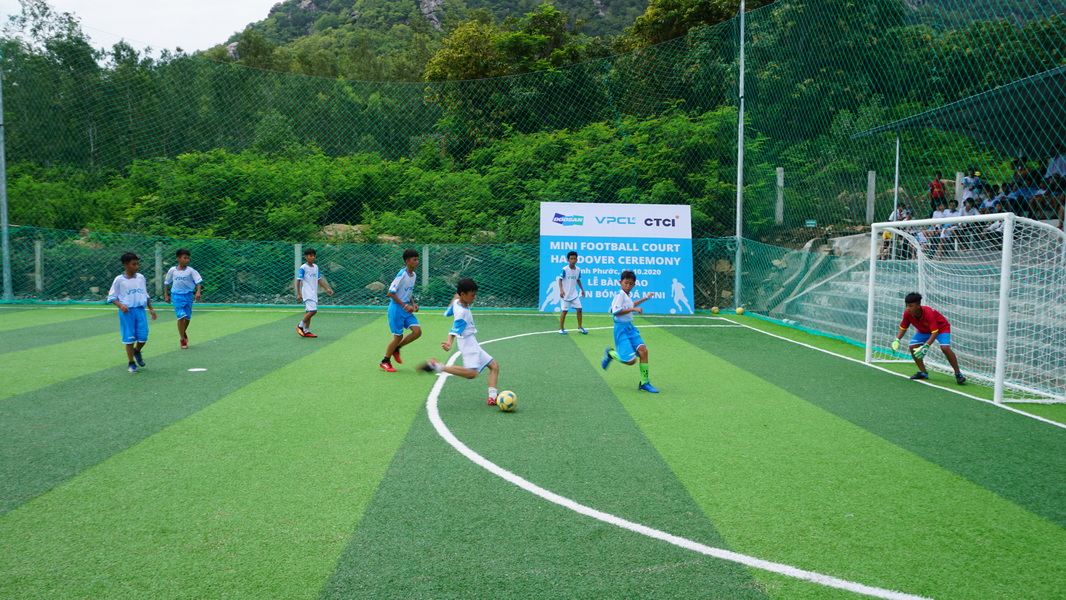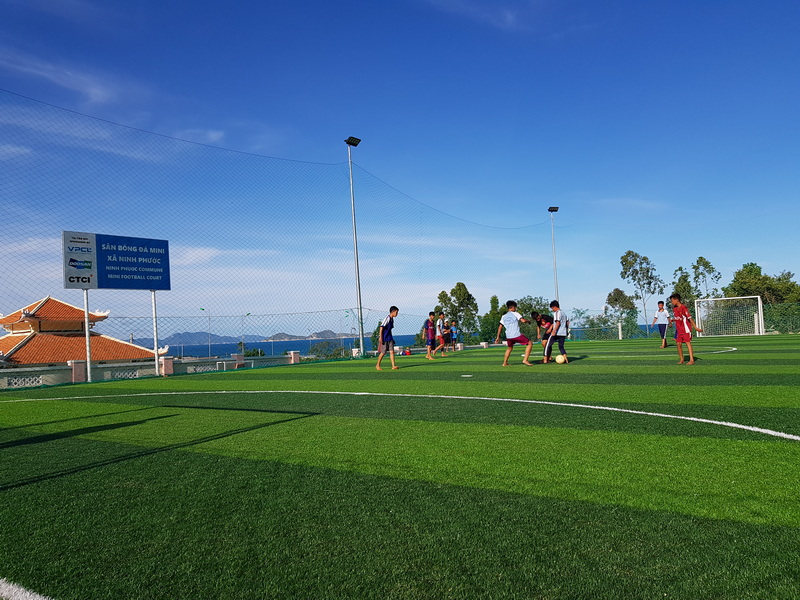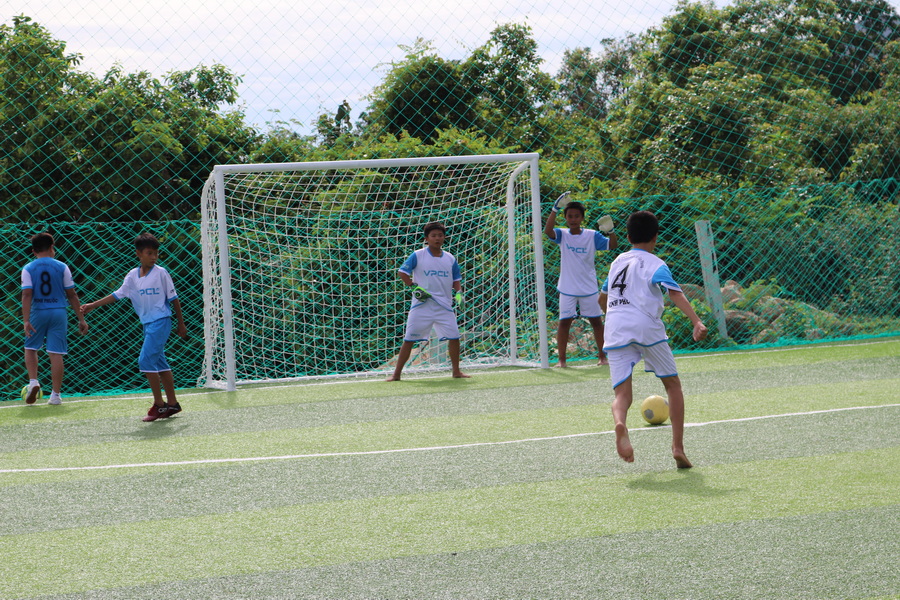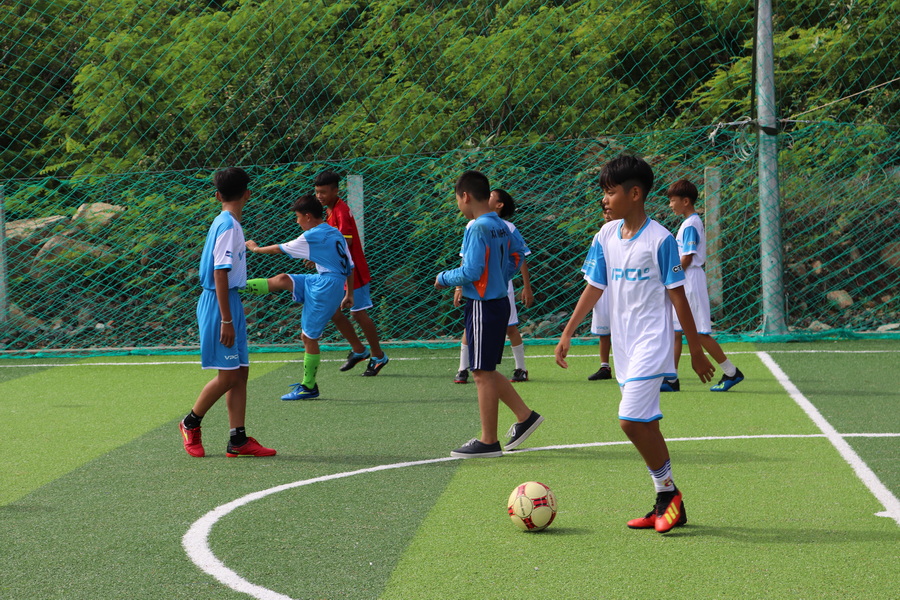 Then, joining hands with Toshiba and IHI, VPCL coordinated a collaborative effort in renovating already downgraded school buildings in Ninh Phuoc Commune. The result was nothing less than the word "stunning" could project. During a short three-week period of August 2020, we were able to renovate three branches of Ninh Phuoc Kindergarten in three villages and give a new life to the library of Ninh Phuoc Elementary School at its branch at My Giang village.


The special part of this program was that the members of VPCL, Toshiba and IHI actually left an unforgettable mark on the walls of all classes of the kindergarten by helping to paint the murals.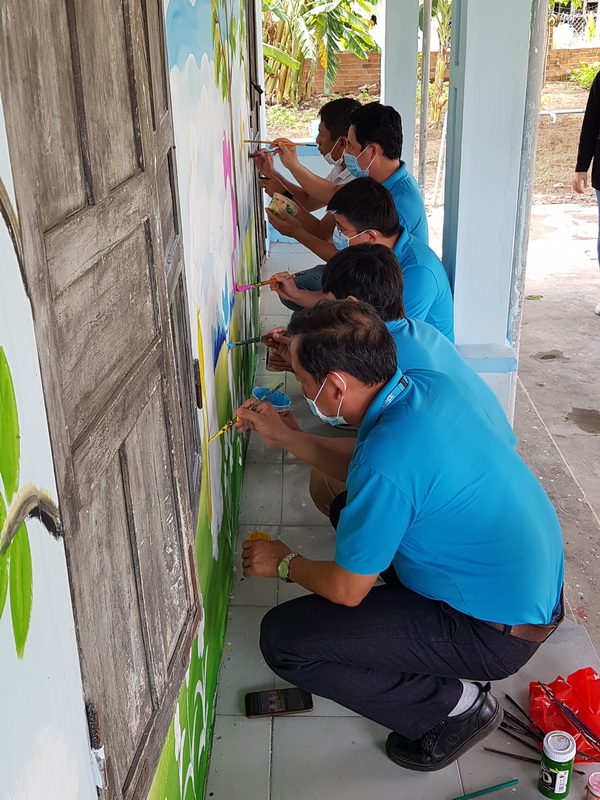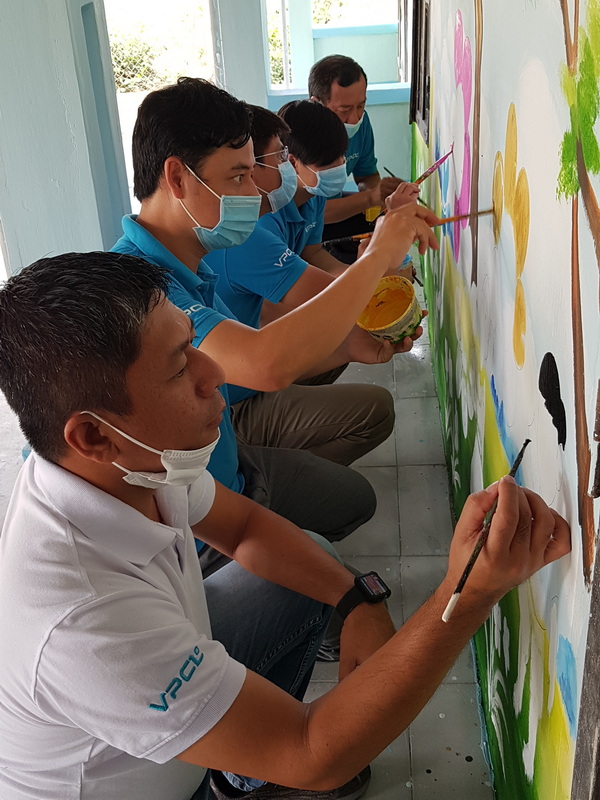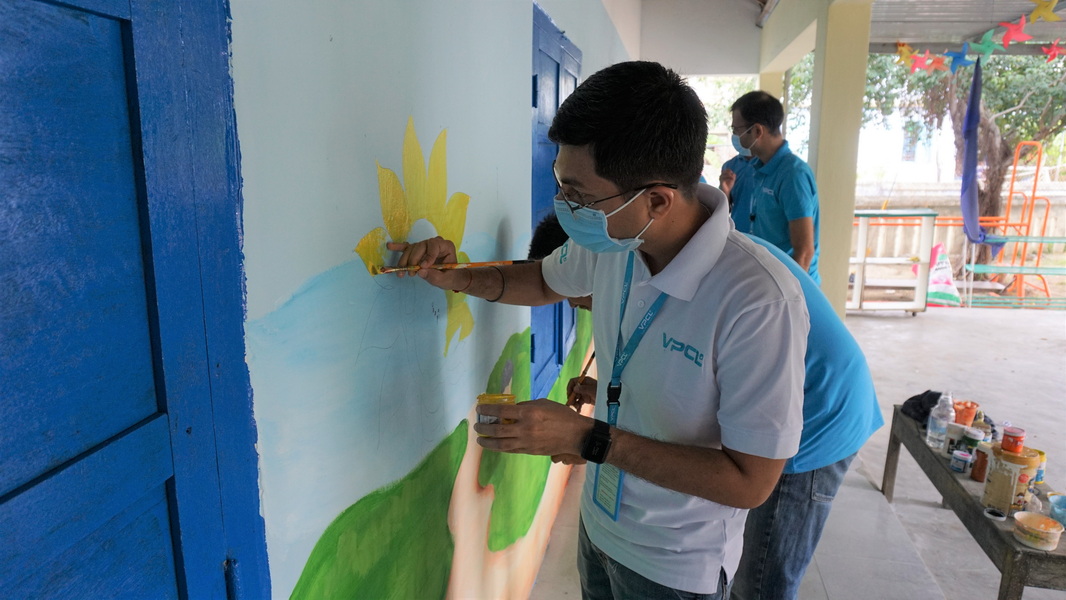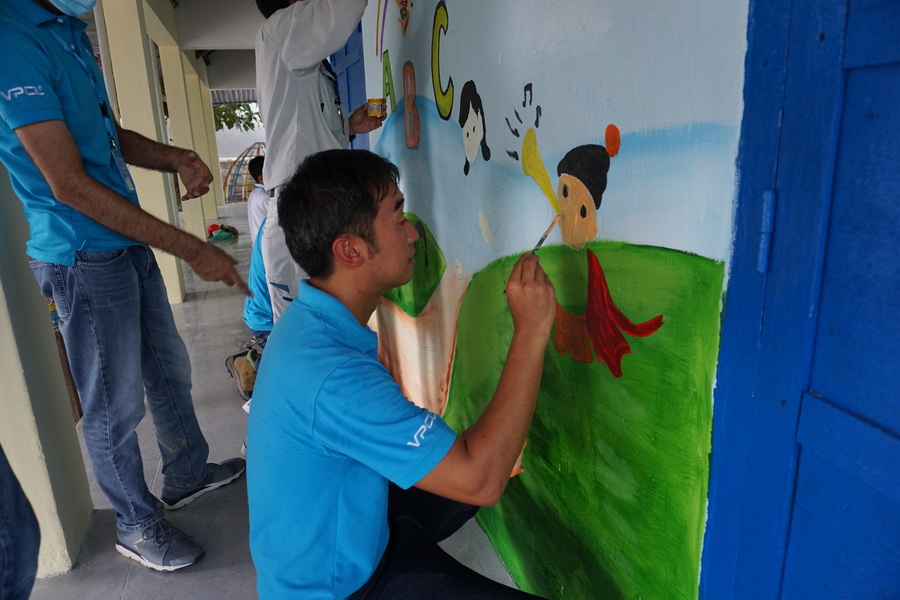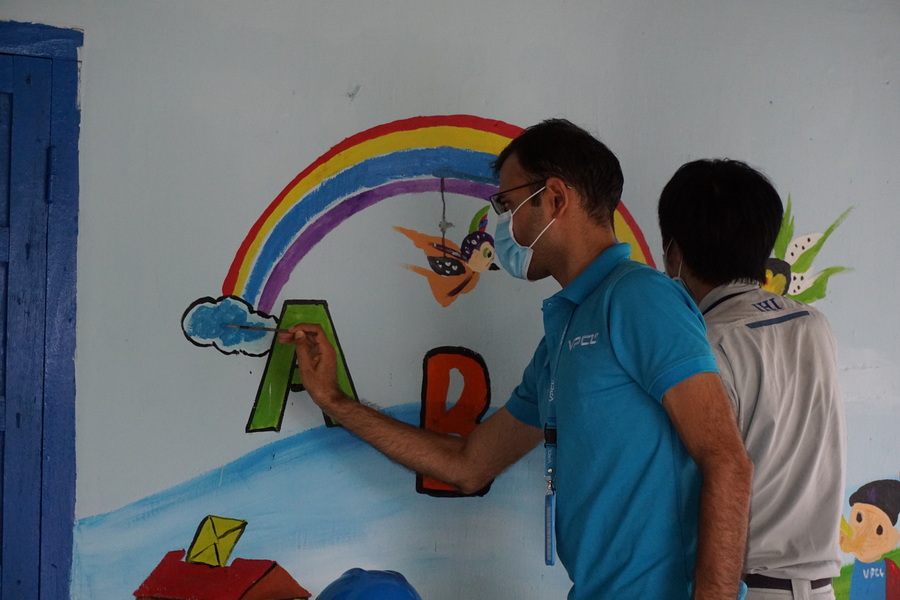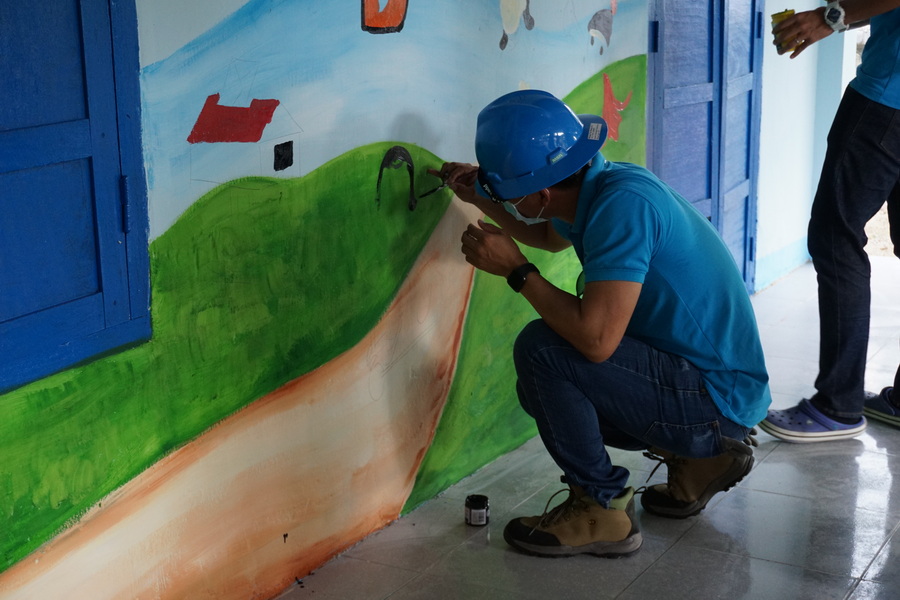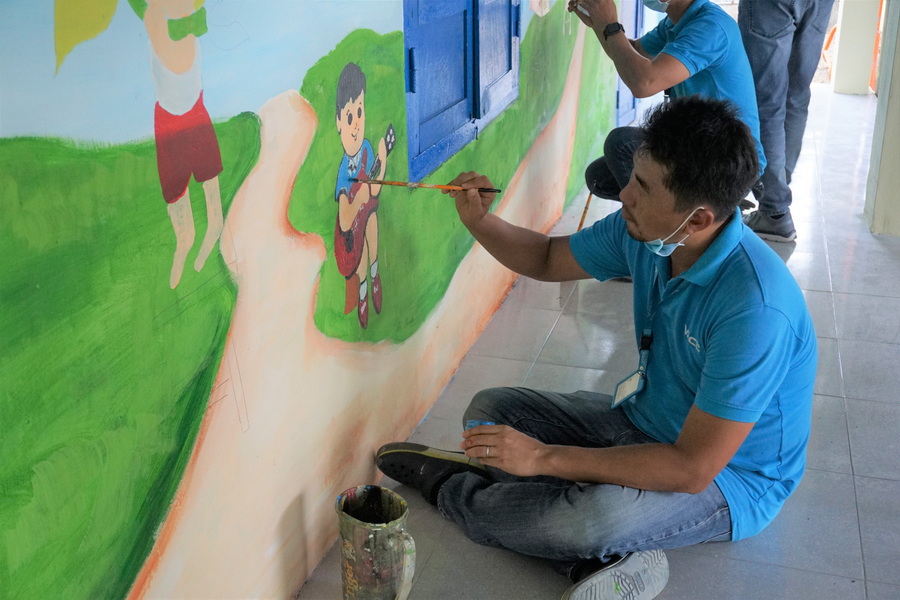 Autumn rolled around and, of course, brought along the arrival of the mid-autumn festival. Fully intending to make the full-moon festival celebration much "fuller" this year, VPCL went all out in supporting the elementary school in organizing this festive event. The children were completely bewitched by the dragon dances for it was the first time for many of them to have seen the dances in real life.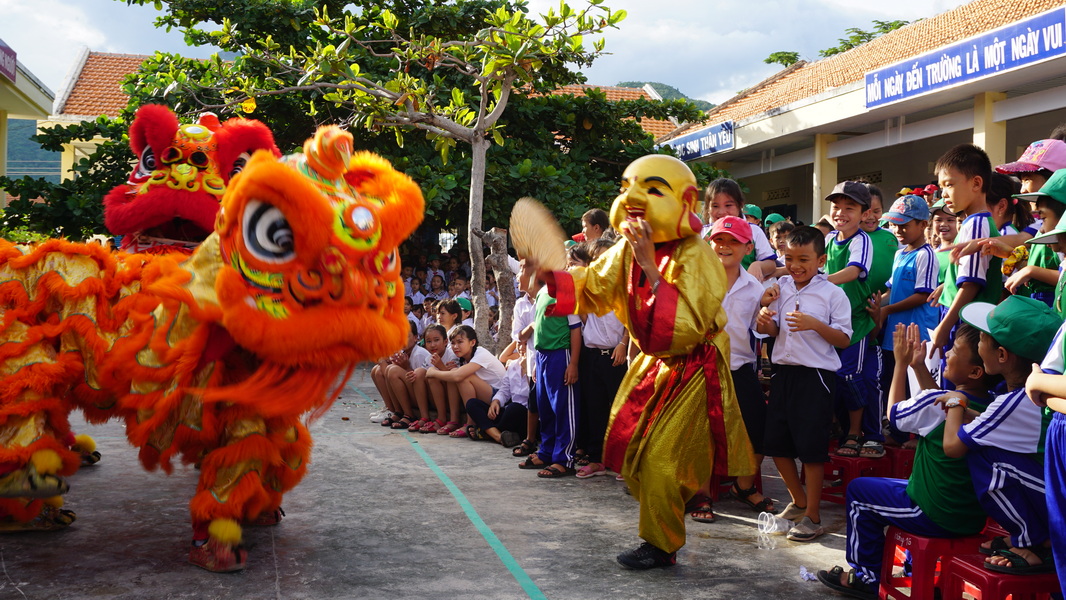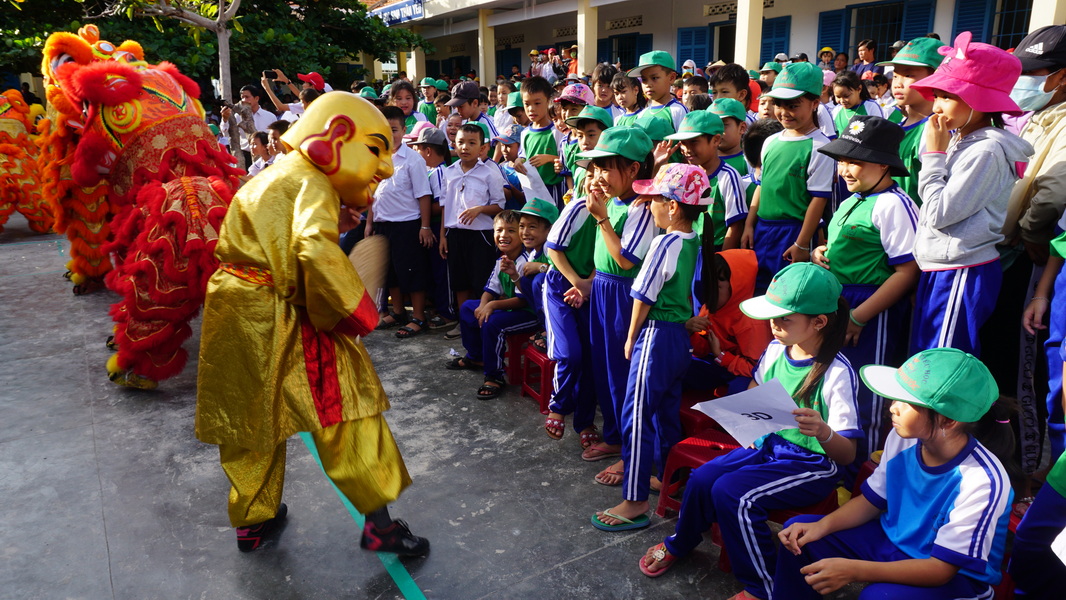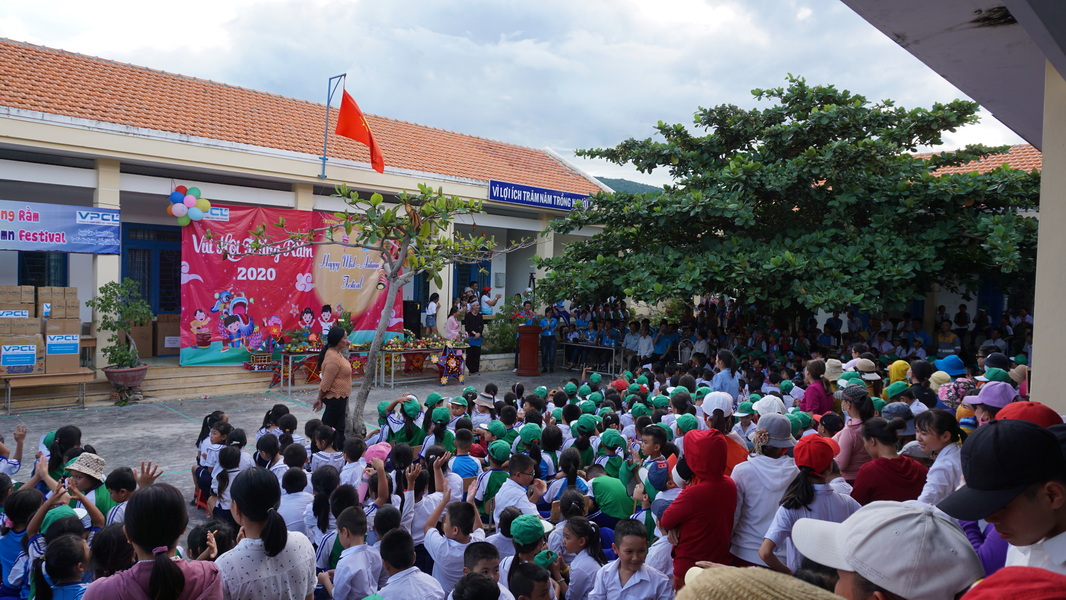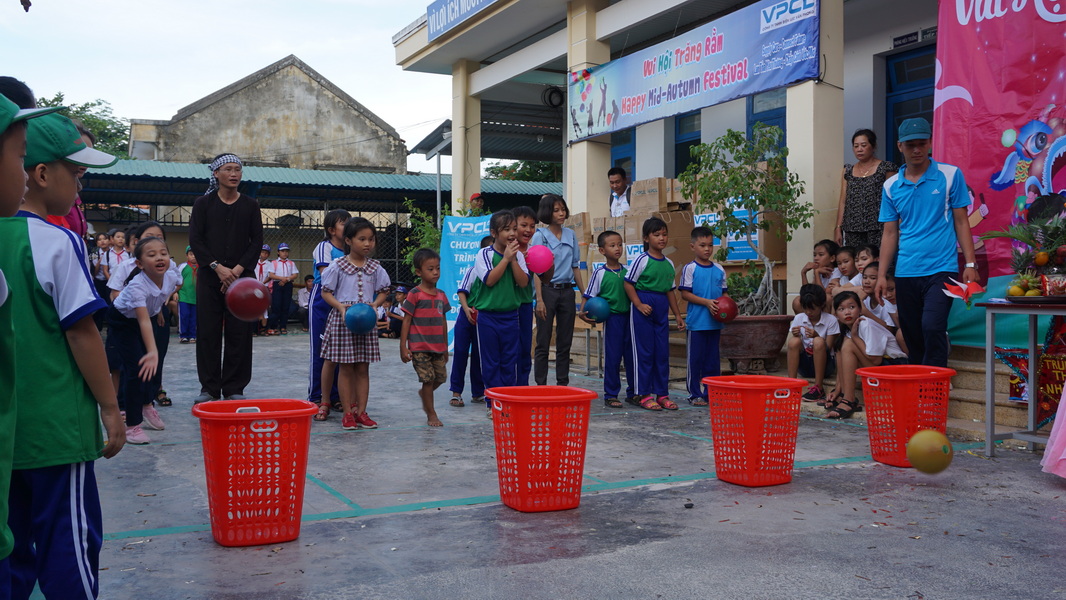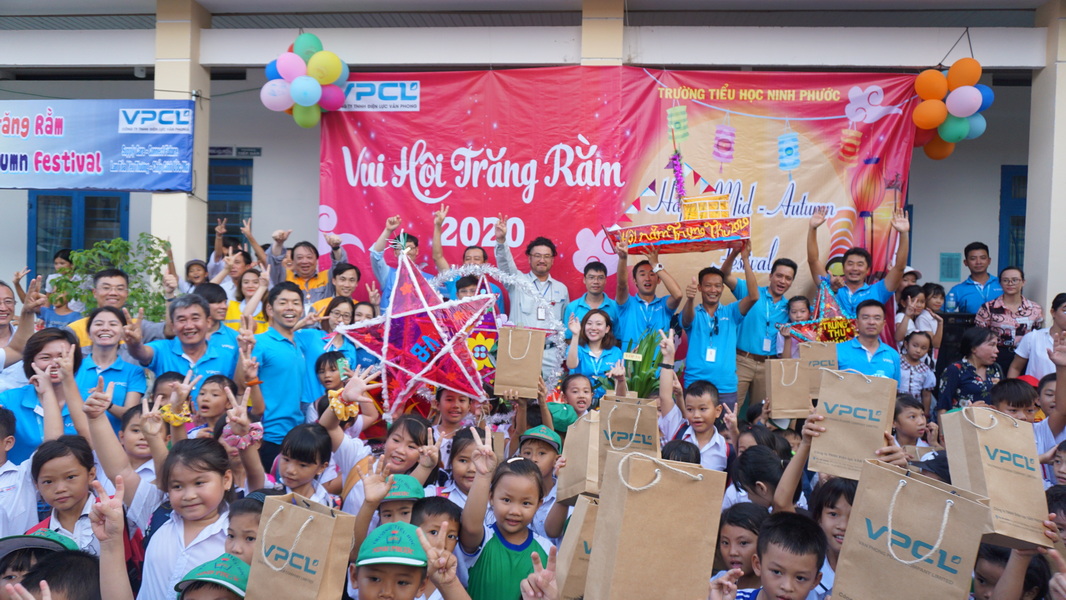 VPCL's members were also wholeheartedly competing in making the traditional five-fruit trays and lanterns with their designated teams of 1st – 5th graders. Representatives from EPC contractors gracefully helped with judging the final products and deciding on the winners.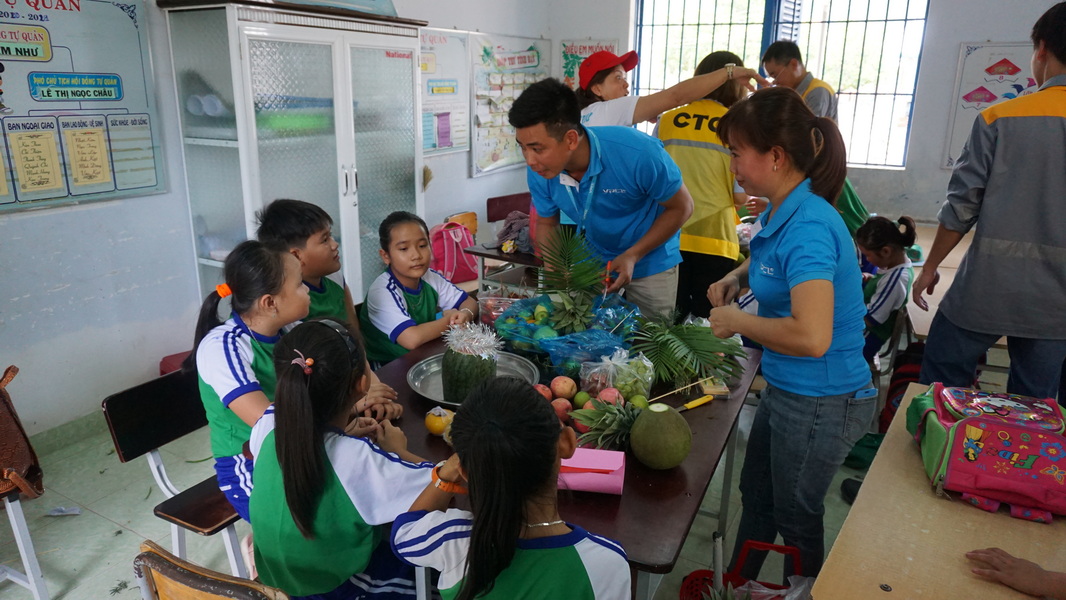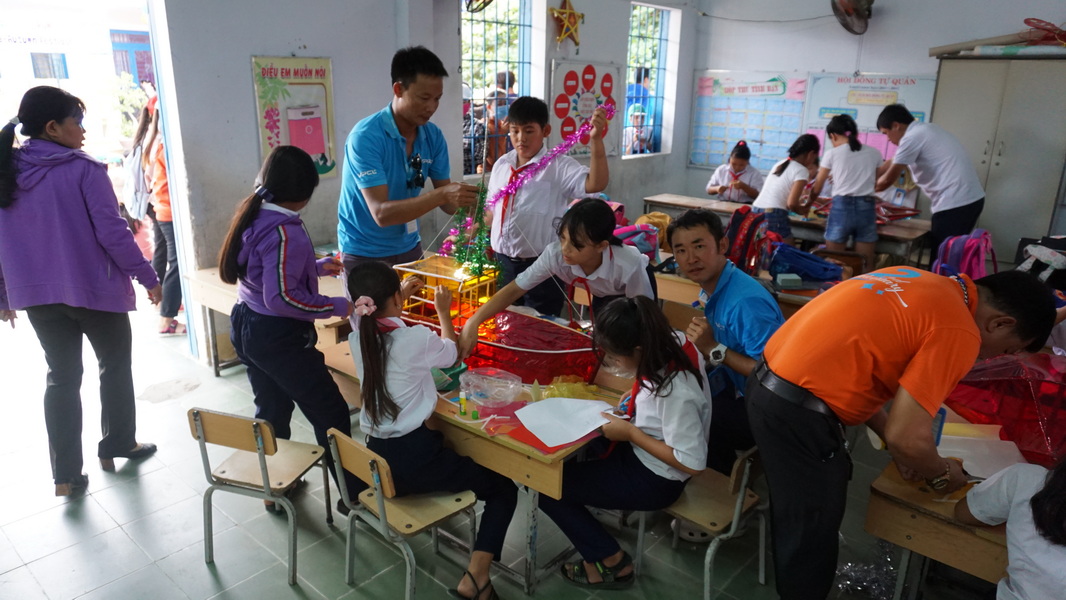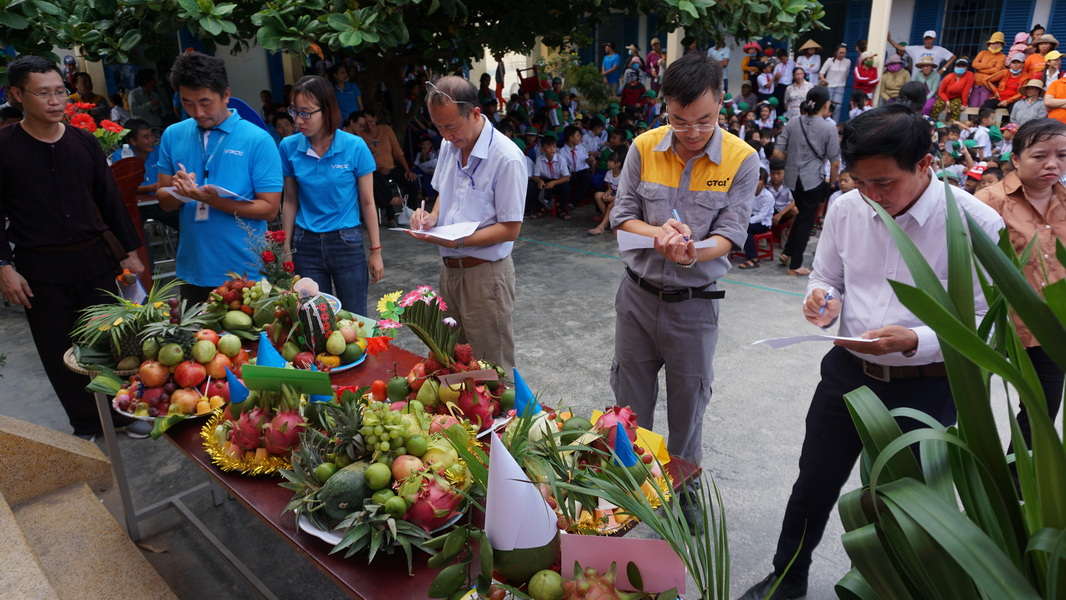 As the students were going back to school this year, one of the greatest concerns from VPCL's HSE team on site was the traffic safety. Many students from Ham Nghi secondary school were riding their electric bikes to school passing by the surrounding area of the construction site where the traffic had been becoming busier as vehicles coming in and out to serve the construction activities. With that specific audience in mind, VPCL cooperated with Ninh Hoa Town's Traffic Police and rolled out a traffic education program at Ham Nghi Secondary school. 30 teachers and 425 students participated in this program with many activities.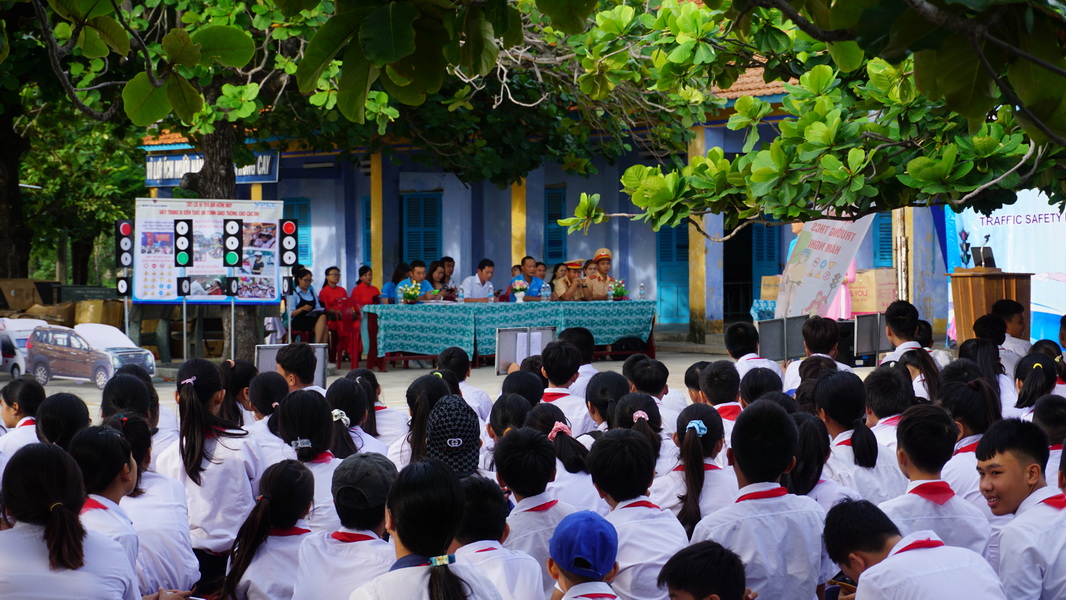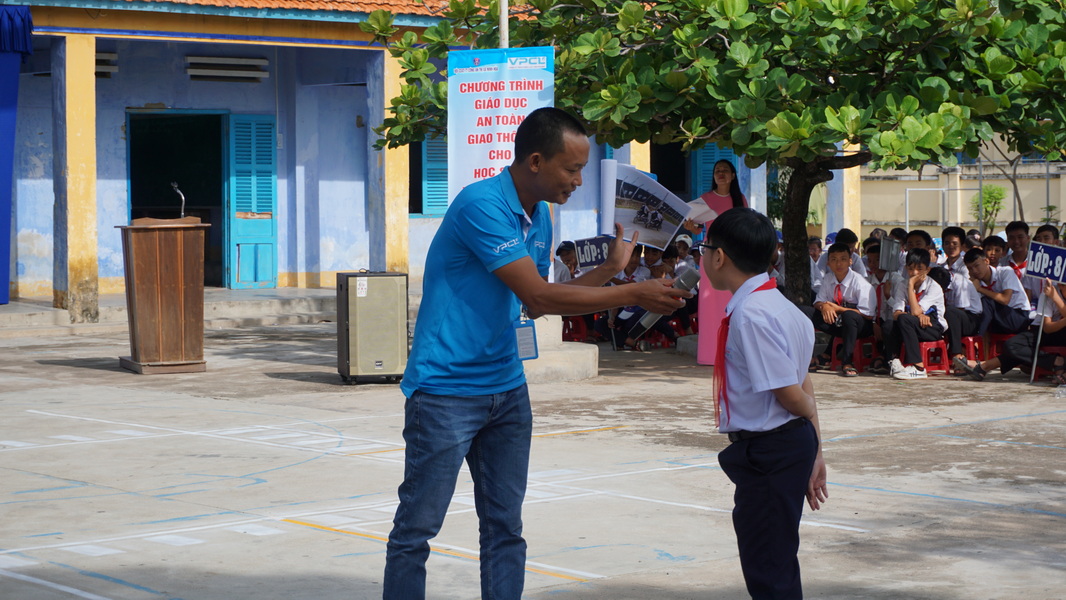 The traffic police arrived at the school to teach the students about traffic rules and regulations of safe walking, biking and riding electric scooters; especially around the project area. The highlight was certainly handing out the colorful helmets to the students who were overjoyed!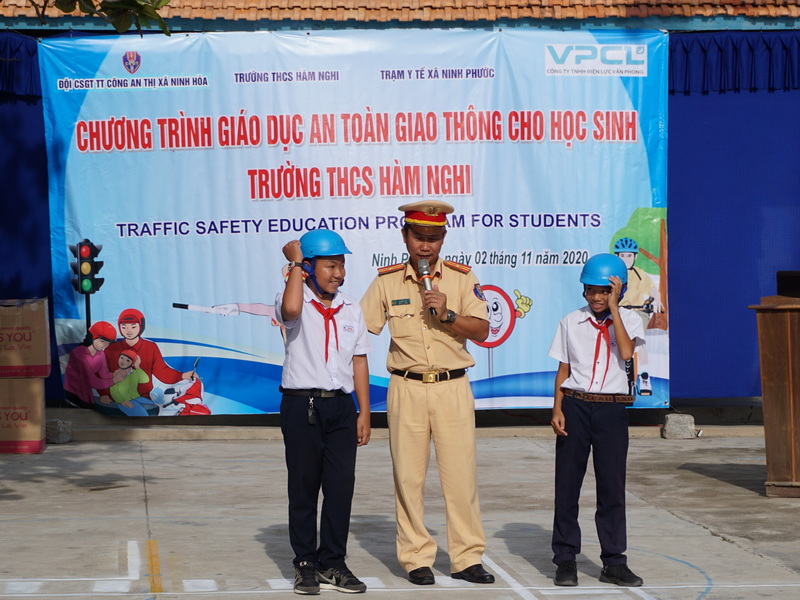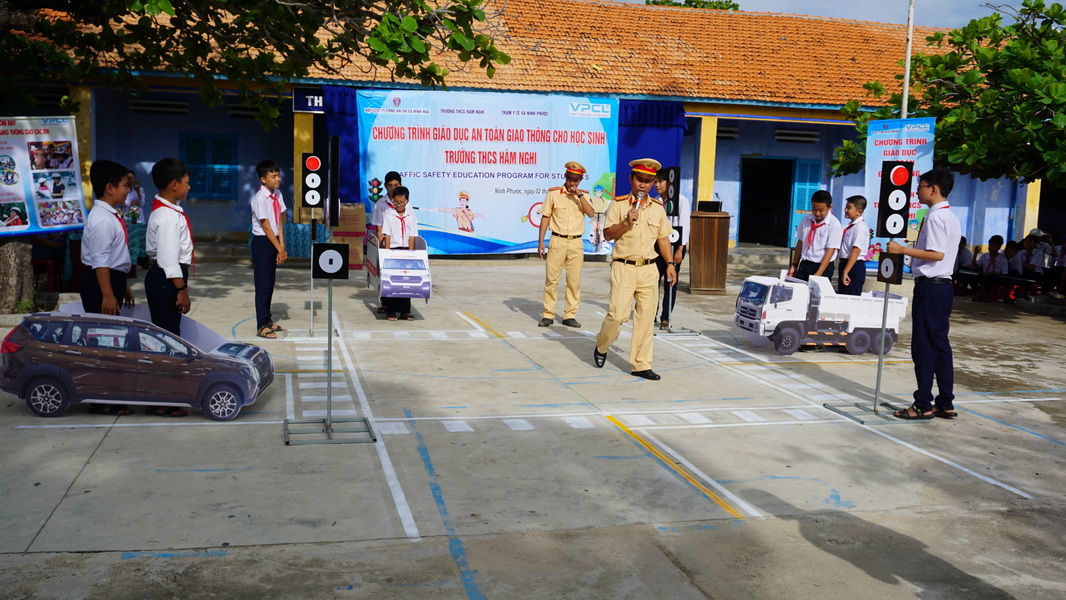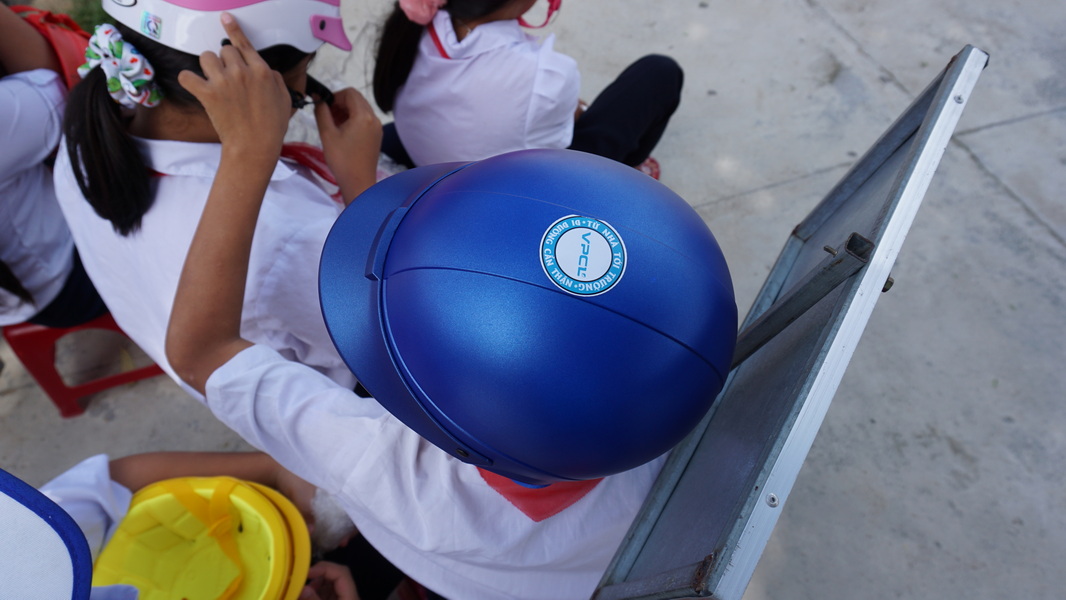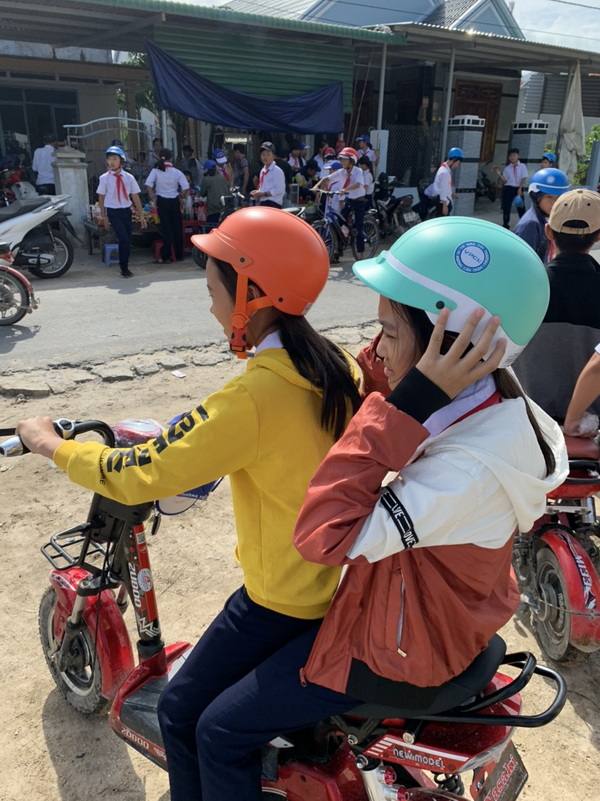 Ninh Phuoc Commune's Health Clinic also joined to help demonstrating some first aid skills as well.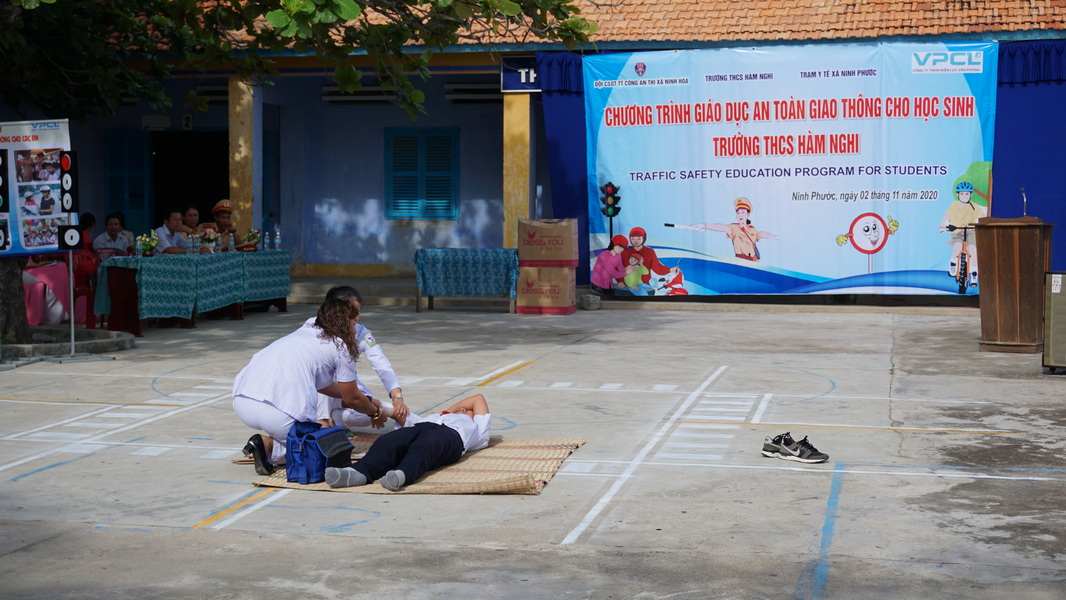 Last but not least, a new school year certainly should come with a scholarship program, a much conventional CSR activity, and for a good reason! Within Ninh Phuoc Commune, the schooling system only goes up to secondary school, students graduating the 9th grade would often quit schooling if their family cannot afford to send them to Ninh Diem Commune or Ninh Hoa Town to continue with high school. Considering the local needs, VPCL initiated an annual scholarship program called Van Phong Children Light up Fund with two components:
Program A: Scholarship for children of displaced households (those which are overlapped with poor, near-poor and vulnerable households).
Program B: Scholarships for academically remarkable students from local grade schools.
For this scholarship program, the scheme has been broadened to also Ninh Tho commune where Ninh Thuy Resettlement Area is located; and Ninh Diem commune where most of the children from displaced households or generally, from Ninh Phuoc commune would go to high school.
For 2020-2021 school year, 60 students in the list of Program A have already been awarded the scholarships during the launching ceremony of Van Phong Childen Light up Fund on 24 October. Meanwhile, Program B is going to be rolled out separately with each respective school.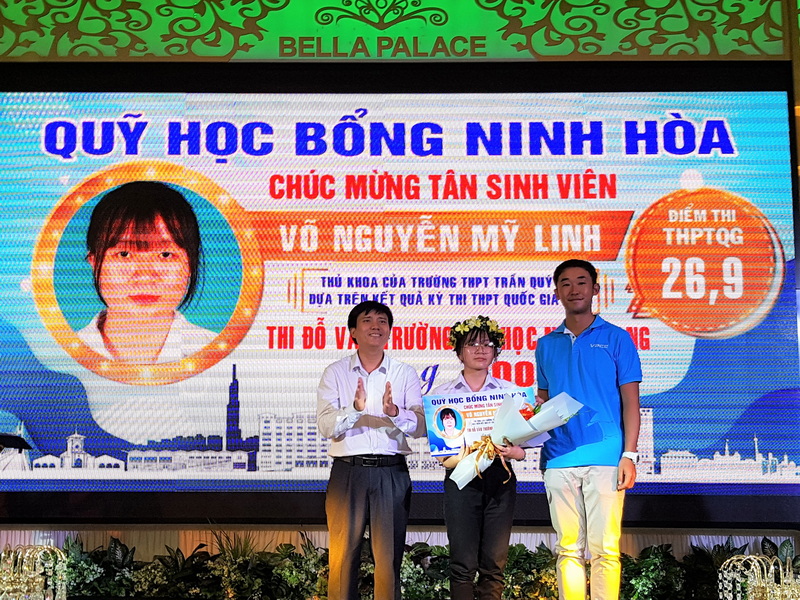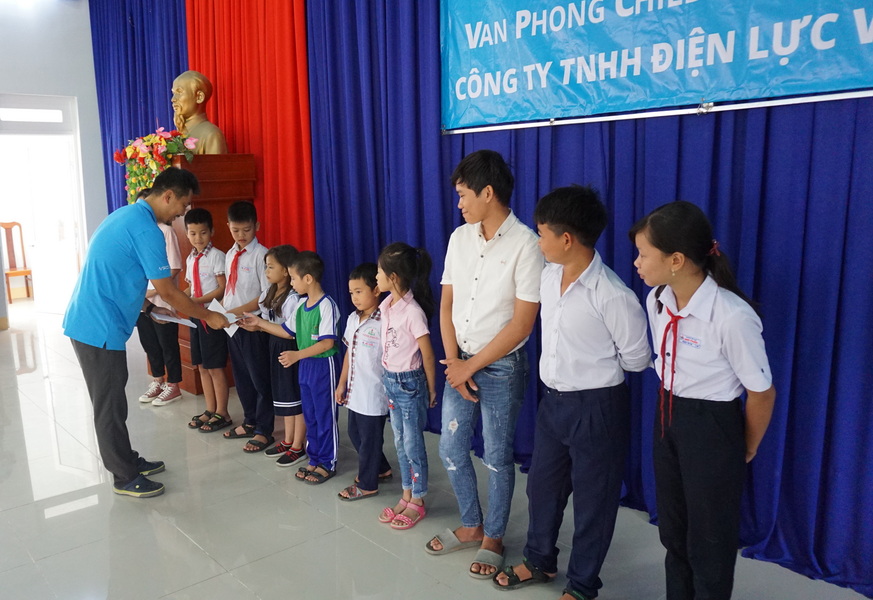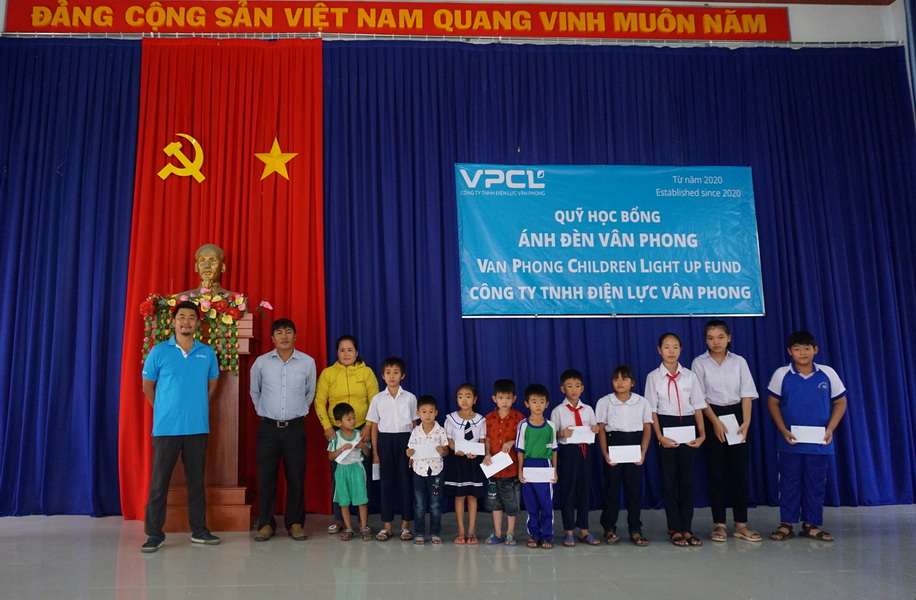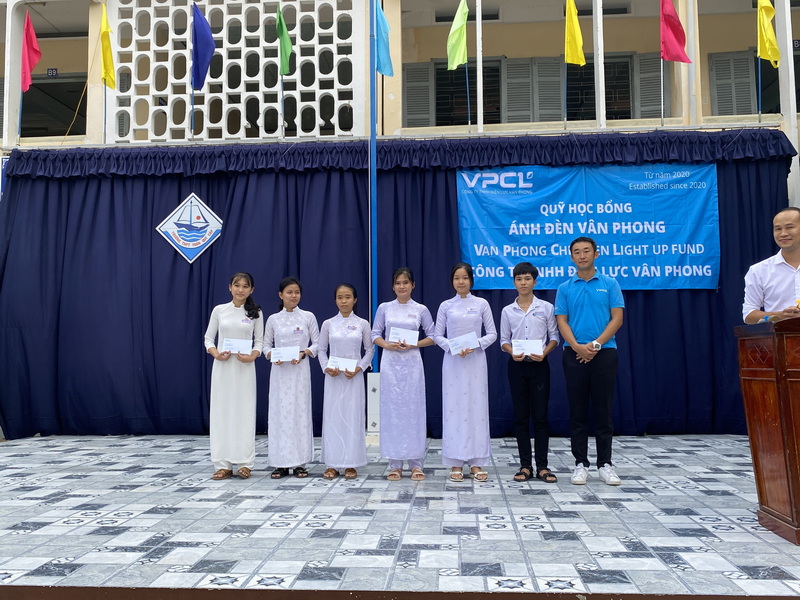 In our breadth of vision, these youngsters are full of untapped potential who will form the labor force of Van Phong Economic Zone in the foreseeable future. We invest our best efforts in these programs with the greatest hope that we could somehow lend a helping hand in creating a living and learning environment where the children can enjoy a happy life; and beyond that, reach their full potential and contribute to the development of their own community in the future.
In the years to come, we see ourselves being a part of the collective effort to create a nourishing environment where the children can grow up happy, healthy, strong and perseverant at the face of adversity while reaching beyond oceans.